Preparations for our participation in the 33rd Austrian Women's Run already began in June. Every Tuesday, 4 to 8 women from the different institutes of our faculty met after work for a run through Vienna, starting from Getreidemarkt. Over the course of our weekly training sessions, great progress was noticeable. As further preparation, we designed and printed T-shirts for our runners.
On the morning of October 3rd, 12 runners joined the FemChem Running Team on-site at the Prater to be a part of the cheerful event. Two motivated ladies participated virtually. After a short, but effective warm-up, our runners started the competition over a distance of 5 km from different starting blocks. A great atmosphere was created by numerous fans and the music groups along the way, who helped the runners to achieve their best performances. Altogether, it was a great event for women of all ages, all shapes, and all backgrounds, just running together.
Our FemChem Running Team outdid themselves landing 5th place out of 32 teams. Our fastest runner finished the course in just a little over 23 minutes. And we will keep it up! Not only will we continue our training over autumn and winter, but also we are already looking forward to the next Austrians Women's run, which will probably take place in May of 2022.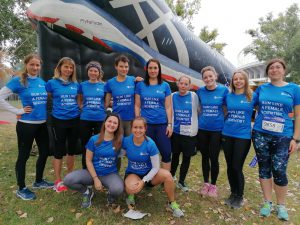 Our Competitors: Jessica Cagan, Antonella Fantoni, Elena Jauk, Katharina Mairhofer, Melanie Maurer, Bettina Mihalyi, Luisa Mihalyi, Sophia Mihalyi, Caterina Radgam, Karoline Rieger, Larissa Ruppitsch, Anna Schmidbauer, Lisa Sinawehl, Anna Zahoranova
We thank the PR department and the research groups of Anne Kasper-Giebl and Simone Knaus for funding the participation and the T-shirts for the event, as well as Victoria Dorrer, who printed the T-shirts for us.