PARENT was created with the aim of analyzing the impact of parenthood on scientific careers and whether this impact is gender specific. Moreover PARENT aims to contribute to improve the situation for parents and prospective parents by proposing concrete measures.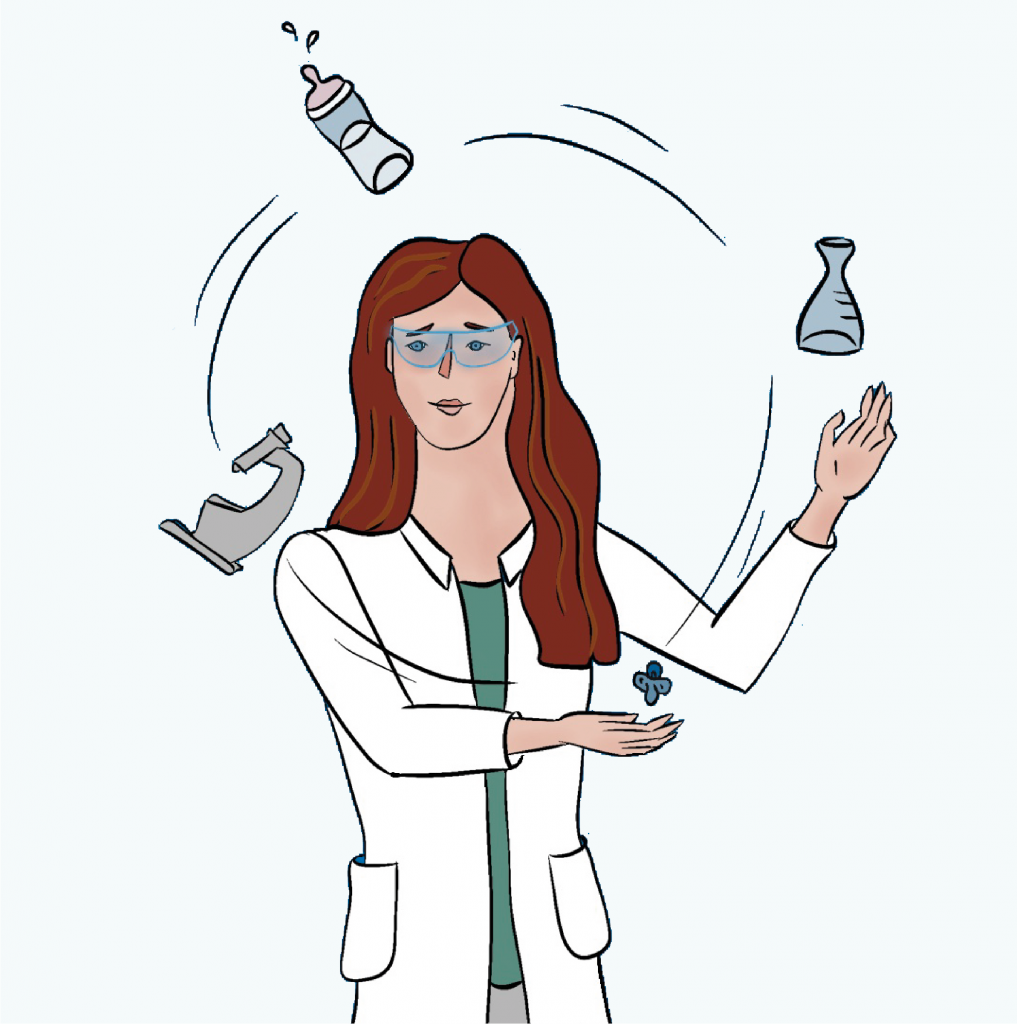 Why did we start this initiative?
In 2019/2020, a study was launched by FemChem to examine the situation of young scientists at the Faculty of Technical Chemistry at TU Wien. It was observed that the large pool of female students on the faculty did not translate into the number of women in top positions.
Another observed effect was a drop in female students and employees at the faculty of technical chemistry towards the end of the masters and the end of the Ph.D. This age period corresponds to the prospect of starting a family for women. This is to put in perspective that more women than men respondents considered family compatibility as an important aspect when choosing a work position.
Additionally, women reported less work satisfaction, and only 7% of women -compared with 31% of men- considered as "very good" the compatibility of a career within the faculty with starting a family.
You can find the study results here (DOI: 10.34726/281; in German).
Consequently, we wondered if the significant drop in female employees after the Ph.D. was due to the perspective of starting a family and to the fact that working at our faculty was not perceived as an environment to do so.
How is this study designed?
Toward these goals, the PARENT initiative was designed in two phases:
Identify the challenges faced by parents
build solutions
PARENT was carried out by the gender experts Marita Haas (Ward Howell International) and Bettina Stadler (FORBA).
This initiative was supported by the Faculty of Technical Chemistry and the Representative for Family-Work Balance Issues*.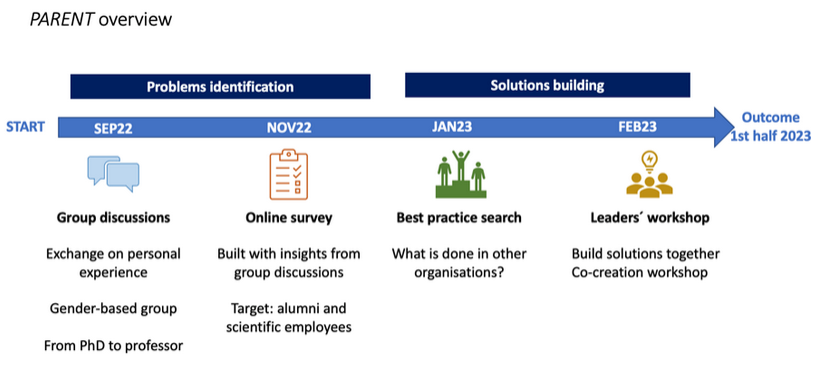 Identify challenges faced by parents
To identify challenges faced by parents, small group discussions have been organized with scientific employees from our faculty in September 2022 to discuss their experience toward parenthood within the faculty. These discussions were used as input to build a survey sent to alums and scientific employees in November 2023.
Building solutions
A search for "lighthouse" projects in research organizations comparable to our faculty (e.g.: at MIT) was performed at the beginning of January.
In February, a "Leaders Workshop" was held by Ward Holwell International experts. During this workshop, research group leaders participated in discussions to build tangible solutions to the observed problems.
---
 The results of PARENT are available via the TU Wien reposiTUm.
(DOI: 10.34726/4822, Language: English)
We invite you to be part of the change.  
For any questions, you can contact us via femchem.DI@tuwien.ac.at
 * The Representative for Family-Work Balance Issues is assigned to the Vice Rectorate for Human Resource